"In time I'd like to think it's less reputationally damaging," he told the Financial Review. But he agreed, when asked if his company had the most to lose.
"No doubt," he said. "All parties involved are impacted in some way."
Tensions rise to surface
As technical experts scramble to understand the cause to cracking in the building that has dominated national news headlines over the past week, tensions are bubbling to the surface between the main players. Mr Aflak said his own project managers were party to the structural investigations taking place but he was not aware consultancy WSP was putting out a statement late on Monday saying other cracks had been found but that the building was structurally sound.
"You would have seen a release by WSP Australia last night, which we only found out about this morning as well," Mr Aflak said. "There appear to be two locations where they're identified a crack. We're still waiting for a full report."
The problems had occurred in "garden slots" – recesses in the facade on the fourth, 12th, 16th and 26th levels of the building – where precast concrete panels joined structural columns and engineers needed access to about 40 apartments to inspect those connections, Mr Doyle said.
"What caused it will play out over a long period – whether it's precast related or related to the column connections."
He said one potential cause, the grouting sealing the connection between panel and column, was not a problem.
"The type of grouting didn't raise any concerns," he said.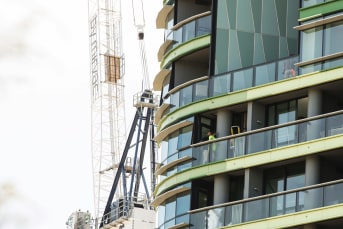 Both Mr Doyle and Mr Aflak said the building was safe for occupation. Mr Aflak said he hoped the majority of residents – apart from those living in units that still required invasive testing to determine problems – would be able to return home sooner than the 10 days Icon said was necessary, when it evacuated all the residents for a second time last week.
"I'm hoping once we have a plan and a resolution this week from the engineers, everyone will be in a position to put a plan of action in place – I think the majority will end up coming back earlier than anticipated – and working out a plan of action for the balance of them."
Mr Doyle, who said the timeline of any remediation work – and consequently, any return by residents – was subject to approvals given by the government-appointed engineers, was non-committal.
"I can't answer that," he said. "It's out of our hands at the moment."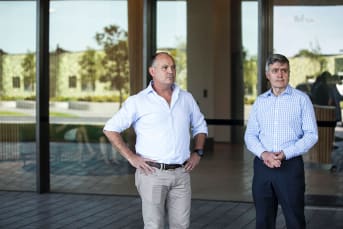 Investment hit
Like other owners of apartments in the 36-storey building, Ecove's own investment had been hit by the incident, which one real estate agent last week said had made units unfit for sale. A 35th-level, two-bedroom apartment in the tower is currently listed for sale with an asking price of $1.18 million.
"In the short term we're all impacted, but it is a longer-term view," Mr Aflak said. "How long that is, I just don't know. We're all subject to the market generally at the moment. It is quite flat."
While all settlements in the building had gone ahead as planned, the 30 units Ecove still held were ones it had "chosen to keep" and as it had repaid lender the Commonwealth Bank of Australia for the $165 million-project, it was in no hurry to sell.
"We don't need to fire-sell apartments for the sake of just selling them, because the market has flattened," he said.
"This is a long-term horizon. We've been in Olympic Park for 10 years. Let's sell them as and when's appropriate."
Opal Tower is at the southern end of the Olympic Park Parkview Precinct, part of the Sydney Olympic Park Master Plan 2030 to turn the park into a new town centre with new homes and amenities. The building is one of four towers Ecove is developing on the site of the 2000 Sydney Olympic Games precinct. It completed the 216-unit twin-tower Australia Towers I project in 2011, the 25-storey, 287-apartment Australia Towers 2 in 2014 and the 30-storey, 320-unit One Australia Avenue tower in 2015.
At 130 Elizabeth Street in central Sydney, Ecove and Hong Kong-listed developer Aoyuan Property Group are building the 38-storey ONE30 Hyde Park apartment tower.
A block away from Opal Tower, construction is underway on Ecove's Boomerang Tower. The 229-unit, 38-storey tower is "well over half" sold and completion is due in September this year, Mr Aflak said.
Ecove had been in touch with Boomerang builder Taylor Constructions, he said.
"We're going back and making sure … we can be confident of the processes that are in place," Mr Aflak said.
"Everything to date indicates that everything is all perfect. So we are very confident [Opal] is an isolated issue."