Woodside Petroleum share rose 1.9 per cent to $35.53 after the company announced a bigger-than-expected final dividend after its full-year profit climbed 28 per cent. Shareholders will receive a US91¢ dividend for the second half, almost double the US49¢ paid to shareholders last year.
South32 closed 3.5 per cent higher at $3.80 after it announced it would increase its returns to shareholders through a special dividend after reporting a first-half profit of $US635 million.
Goodman Group climbed 4.3 per cent to $12.51 after upgrading its full-year earnings guidance on the back of a strong first half for the year amid surging global demand for new logistics facilities.
An increase in performance and management fees have lifted Magellan Financial Group's interim profit to a record high of $53.3 million. The company also increased its dividend from 44.5¢ to 73.8¢, pushing its shares 9.9 per cent higher to $32.09.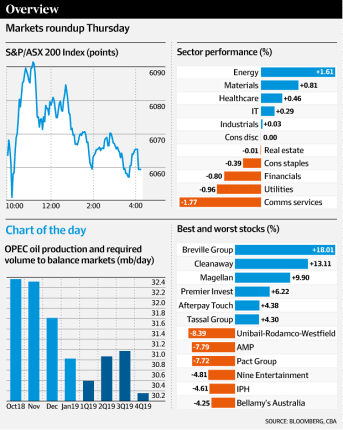 Treasury Wine Estates increased its first-half dividend by 20 per cent following robust profit growth of 31 per cent in Asia. The company's net profit after tax rose 17.1 per cent to $219.2 million, lifting the winemaker's shares 0.6 per cent higher to $16.90.
The two biggest results-driven gains inside the benchmark index were Cleanaway Waste Management, which rose 13.1 per cent to $2.20, and Breville Group, whose shares climbed 18 per cent to $14.09. Cleanaway said it would benefit from attractive defensive fundamentals even as the economy slowed while Breville's profits were boosted by a growing global health and coffee craze.
Stock watch
Seek
Citibank retained its 'sell' rating on Seek, while reducing its 12-month price target to $15.85 from $17.65, citing Australia's slowing jobs market. Analyst David Kaynes also cut his estimates for 2020-21 by 5 per cent on the basis that Australian job ads are falling. Mr Kaynes said Australian job ads declined for a third consecutive month in January, with the rate of decline accelerating in early February. He believed this trend was the start of a sustained downturn and, given that employment cycles are rarely short, to expect at least 18 months of declines. Mr Kaynes said the margins from Seek's international businesses were insufficient to offset the earnings impact of a decline in Australia. Seek shares closed Thursday's trade 3.7 per cent lower at $16.73.
What moved the market
OPEC output
OPEC reported a fall of 797,000 barrels per day in oil production from December to January as the world's major allied producers continue to cut supply to boost prices. Most of the production cuts came from Saudi Arabia, which was responsible for almost half of the total output reduction. Since October, the cartel's oil production has fallen by about 1.55 million barrels per day. A large proportion of the fall in OPEC's production is down to the countries exempt to cuts, with output from Iran, Libya and Venezuela all falling. Without those countries, OPEC's production is only down by 650,000 barrels per day.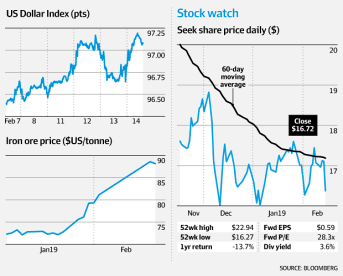 Iron ore
Iron ore prices have continued to decline as investors await confirmation from Vale over the miner's ability to supply its customers. Vale is yet to officially cancel or amend any long-term iron ore supply contracts with its mills. "Steel mills are looking to draw down on their iron ore inventories and then port stocks, before looking to the seaborne market," said CBA mining and energy commodities analyst Vivek Dhar. "We still expect iron ore prices to spike to $US100 a tonne." Mr Dhar also noted that the slow response from steel mills suggested any spike in the iron ore price could be delayed until March.
US dollar
Strong economic data pushed the US dollar higher on Wednesday, reversing a 0.4 per cent slide in the US dollar index which had brought an end to eight consecutive sessions of gains. Real average weekly and real average hourly earnings surged to their highest level in more than three years and two years respectively on Wednesday. Monthly headline and core inflation numbers were close to consensus but the annual inflation print came in above consensus. Lower energy and fuel prices pushed headline CPI lower to 1.6 per cent.
Aussie weakness
Following the Reserve Bank of New Zealand's policy meeting on Wednesday, Capital Economics believe the New Zealand dollar will continue to appreciate further against the Australian dollar through 2019. "The RBNZ's neutral stance was in stark contrast to last week's more dovish comments by the RBA's governor and explains why the New Zealand dollar appreciated against the Australian dollar following the meeting," said Capital Economics market economist Simona Gambarini in a note on Thursday. She said both the Aussie and NZ dollar would be buying US60¢ at the end of 2019.